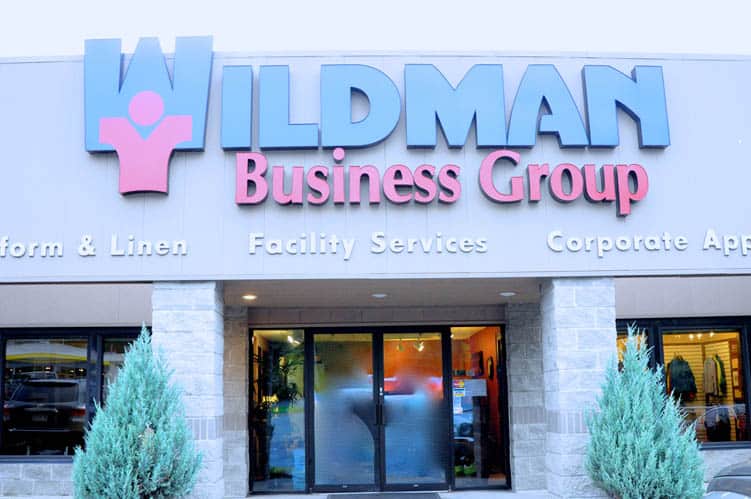 Destined for a life of wakeboarding and skiing in Florida, the last thing Josh Wildman wanted to do was work at the family laundry business. Everything was all set—he had a scholarship and was moving to the sunshine state with his wife. Then the unthinkable happened; he severely broke his leg.
At the time, he was making deliveries for Wildman Business Group to make a little extra cash. One project led to another, and soon his day job turned into a career: CEO of Wildman. "God literally took my legs out from under me because His plan was not my plan…now working at Wildman is my calling, my ministry, and I am very passionate about the opportunity I have to influence the community," Josh said.
In a world where publicly promoting Christianity is frowned upon, Wildman has decided to unashamedly let his faith set the standard for his company. Though Wildman is an equal opportunity employer and welcomes people of all faiths, Josh says, "We run our company through Biblical principles, and we are not ashamed of that. I truly believe the Bible is the best business book, and we will not compromise our faith. That being said, you can have a great career here regardless of what you believe."
How has this unique philosophy been helping the 64-year-old business? The company with over 215 employees has grown from making $19 million to $41 million in the last three years alone. Last month they were listed number 2,985 on INC's 2014 list of 5,000 fastest growing companies, with a 120 percent growth index over the last three years. So, what does Wildman do? While most people know Wildman for their laundry and uniform rental services, they do much more. They also create janitorial and first aid supplies, offer printing services, partner with Corporate Apparel, and produce the YouTheFan brands including Sportula grilling tools, StadiumViews 3D stadium replicas and Joe Journeyman seek and find adventure games. For more, check out www.youthefan.com.
"We are involved with some major brands and work with the NFL and Major League Baseball for the YouTheFan spatula brand, which is found in every major mall in the U.S. and has been very successful."
In spite of such success, Wildman's mission is focused outward rather than on profits. Their mission: Exercise the privileges of freedom and capitalism for good rather than greed. And their motto: Meet a need. Plant a seed. Starve our greed.
One way they do so is by financially supporting several ministries and taking employees on mission trips with 2nd Mile Missions or Humanity and Hope United Foundation. Whether employees go to Honduras, the Dominican Republic, or volunteer at local charities, serving has made a large impact on the company. "People come back more appreciative of the opportunities they have compared to the rest of the world. We live in the richest nation, at the richest time in history ever, while 95 percent of the world lives on a dollar a day. We as Americans don't appreciate that," Josh continued, "One of the things we do with these trips is ask, 'regardless of what you believed before you came, what do you believe now? What do you really believe?'"
Serving also adds tangible value to the business through the nature of its unique team building. "Whenever you come together to do something that isn't selfish, there is a camaraderie that is built—essentially two strands are stronger than one. You can't build teamwork like that otherwise," Josh added.
Josh's wife Leslie and son Beaux serve on a mission trip to the Domincan Republic
Speaking of great teamwork, Josh said hiring the right team is crucial to success. His advice for business owners is: "Hire great people, especially if you are just starting out. It is going to be a lot harder than you think. Secondly, most new business owners miss the importance of cash flow…and it is going to cost a lot more than you think it is going to cost. That is what we have found as we diversified—it is a major investment. The idea is easy, but the execution is not, so plan ahead."
And Wildman is doing just that. "We think we've got our biggest opportunities yet to come," Josh said. "We have some neat other products that are going to be coming out over the next year and diversification for YouTheFan. Be watching our website for more!" So
So there you have it—the wildly successful Wildman business. "We have been really blessed as a company, I think it is because of our servant mindset…" I think so, too, Josh. I think so, too.